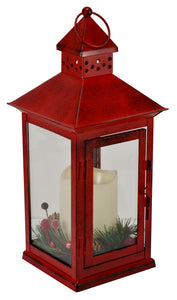 Enhance the beauty of your holiday decor, with this long-lasting, contemporary, Metal LED Lantern that can be hung or stand alone.
This elegant Coach Lantern features a battery-operated, plastic Flameless LED Candle that provides a safe, beautiful glow like a real flame.
Removable pine and berry accents encircle the candle adding a classic touch.
In addition, an on/off timer is built into the base of the lantern that conveniently turns the candle on at the same time every day for 6 hours and off for 18 hours.
A perfect accent for any home décor!