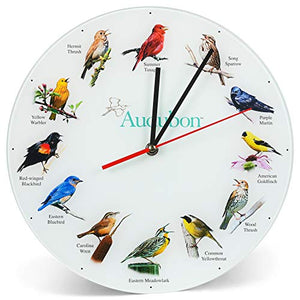 The non-singing version of our popular Singing Bird Clock
Features beautiful Audubon songbird artwork around the edge depicting the Summer Tanager, Song Sparrow, Purple Martin, American Goldfinch, Wood Thrush, Common Yellowthroat, Eastern Meadowlark, Carolina Wren, Eastern Bluebird, Red-winged Blackbird, Yellow Warbler, and the Hermit Thrush.
Made from glass with classic white finish;
Hands are mounted on top of the glass sheet for a modern look.
Round clock measures approximately 12 inches in diameter;
Requires a AA battery (not included).
Perfect addition to the décor of a nature lover or birdwatcher.
Ships in protective packaging ready for gifting.