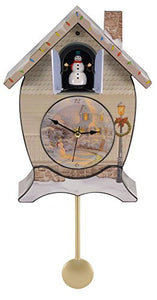 Renowned artist Thomas Kinkade's famous holiday painting, The Night Before Christmas, is played out on our richly-detailed cuckoo clock.
At the top of each hour, a Snowman pops out accompanied by one of twelve Christmas carols, adding ambiance to this festive occasion.
Our unique cuckoo feature is guaranteed to get everyone in the mood for the holiday season.
Our clock features a swinging pendulum which can be removed for mantel or tabletop display.
At nighttime, a light sensor deactivates carols, allowing our Snowman friend (and you) to catch some sleep!
2 x C and 1 x AA batteries required (not included).