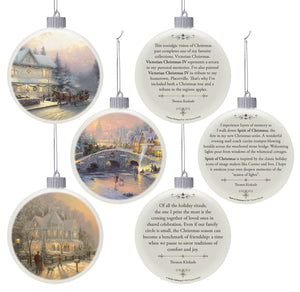 Our set of three, 3.25-inch charming Thomas KinkadeTM Porcelain LED Ornaments will make a wonderful addition to your Christmas tree.
On one side of the colorful circular, flat-shaped ornaments are beautiful illustrations by the renowned artist that encourages you to pause, smile and truly enjoy this extraordinary holiday season!
On the reverse side, Kinkade describes in his own words the inspiration behind these festive pieces of art.
Our Kinkade Ornaments illuminate with their battery-operated LEDs that will cast a beautiful warm glow and provide a holiday ambiance.