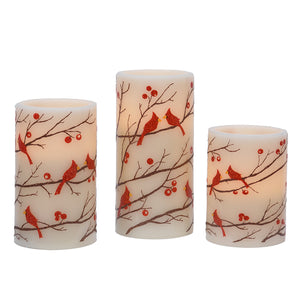 Our beautifully crafted Flameless Pillar Set with Glitter Cardinals and Berries will make an ideal arrangement for any holiday home décor.
The safe, battery- operated 4, 5 and 6-inch real wax candles feature an LED that flickers and glows like real candlelight.
As an added bonus, our pillars includes an automatic timer, that when set, conveniently turns at the same time every day for 6 hours and off for 18 hours.
Cleverly crafted with melted top for realistic candle look and feel.