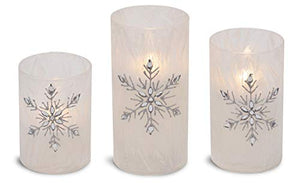 Our beautifully crafted 3-piece Flameless LED Iced Glass,
Wax Filled Pillar Set will make an ideal accent piece for any holiday or seasonal home décor.
Each 4-inch, 5-inch and 6-inch pillar features a Jeweled Snowflake design giving them a distinctive look.
The candles include a safe, battery-operated LED that flickers and glows like real candlelight minus the hazards of an open flame or melting wax.
As an added bonus, each pillar includes an automatic timer, that when set, conveniently turns on at the same time every day for 6 hours and off for 18 hours.